VisAbility recently purchased the award-winning Reach & Match Learning Kit, and clients and staff from Children and Youth services are enjoying its benefits.
Designed by Mandy Lau, the learning kit is an initiative that empowers children with special needs and facilitates an all inclusive education setting.
Suitable for children with and without vision impairment, the Reach & Match Learning Kit includes braille and print forms to develop literacy, as well as assisting essential childhood skills such as cognitive, motor, and social and communication skills.
The kit also offers shapes and surfaces with contrasting colours, and tactile patterns.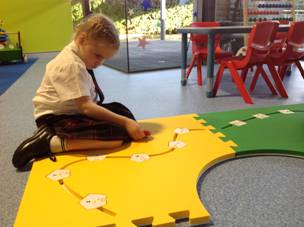 Images (Above): Mia and her mum testing out the new Reach & Match kit together.
Located in the Perron Centre's Children's Centre, the kit will be utilised in the provision of services to children of all ages.
Children and Youth Services Manager, Seb DellaMaddalena, has already noticed the benefits.
"We have really enjoyed watching the children experience different textures and patterns, and we are looking forward to giving the primary school children the opportunity to work as a team to complete various tactile challenges that the kit offers,' said Seb.
With a strong background in engineering and design, product designer Mandy Lau has experience in teaching art for children and adults with special needs.
The Reach & Match Learning Kit was developed during Mandy's postgraduate research, and won the 2011 Melbourne Design Award whilst still in the concept stage.
For more information visit www.reachandmatch.com or https://www.facebook.com/reachandmatch?ref=hl