If you have low vision, you probably assume the javelin or discus wouldn't be a good fit. But VisAbility client Jackson is going to prove you wrong.
"When you throw the discus or the javelin, it's all about technique, body positioning and strength, and the way you throw, so having low vision won't affect performance."
Jackson is the only male vision impaired javelin thrower in WA. The teenager currently ranks fifth in the world for para-javelin.
This year he achieved a personal best throwing a javelin 56.04 metres in the National Multi-Class Ambulant Javelin event at the Australian Track and Field Championships. He picked up a medal and $1,000 worth of supermarket vouchers from Coles for his efforts.
Not bad for an eighteen-year-old who has high hopes for continued sporting success.  Jackson has no vision in his left eye and has limited sight in his right due to X-linked juvenile retinoschisis (link opens in new window) and macular degeneration.
"I was pretty chuffed with my performance. I aim to compete in the Paralympics. If I don't get selected for Tokyo, I'll try in 2024. I have age on my side."

Jackson – VisAbility client and athlete
Juvenile retinoschisis diagnosis
Jackson was diagnosed with X-linked juvenile retinoschisis when he was five and at primary school. His teacher noticed he was squinting in the classroom and tests followed.  Jackson received help from an education support assistant and a visiting Braille teacher from VisAbility when we had peripatetic specialist teachers. It wasn't until he was nine that his eyesight deteriorated rapidly.
More recently he's sought guidance from our Assistive Technology team at VisAbility.
"I'm at Notre Dame University studying a Bachelor of Exercise and Sports Science, so I use a lot of tech. I have an iPhone and an iPad, but my go-to is a Ruby Magnifier (link opens in new window) – a small but powerful video magnifier. It has a 4.3-inch screen and can magnify items from 2 to 14 times the original size."
Athletic potential from an early age
Jackson's vision loss has never hampered his love of athletics, especially javelin and discus. He joined Little Athletics UWA when he was six, following in the footsteps of his older brother and sister.
"Both my siblings are very sporty. My older brother Cooper plays basketball for the Perry Lakes Hawk team. My sister Ruby also enjoys basketball, volleyball, and the gym."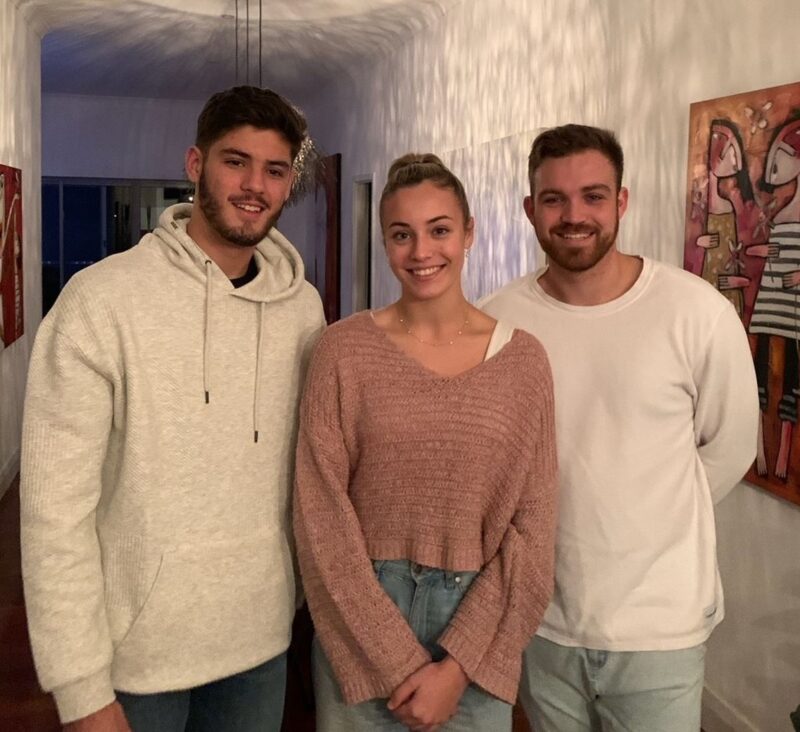 His brother and sister are now studying for health careers, Cooper is completing a Master's in Occupational Therapy, and Ruby is studying a Doctor of Medicine. After completing his studies, Jackson wants to complete a postgraduate qualification in Physiotherapy.
"My dream job would be a sports physiotherapist for a national or state team."

Jackson – VisAbility client and athlete
Combining university study and training
Jackson is in his first year at university. His lecturers are aware of his low vision and his condition. They email him notes for his lecture the day before so he has the chance to look through them.
He brings them up on his laptop and magnifies them as required. While Jackson is competent in Braille, he uses assistive technology to complete his coursework – his Ruby Magnifier, apps on his iPhone, and talk-to-text.
Jackson admits it can be hard juggling student life with competitive training, but he never tires of the thrill of letting go of a javelin or discus.
"I just shut my eyes and let it go. As soon as it leaves my hand and goes through the air, I know instantly whether it's been a powerful throw. When you achieve a personal best, it's euphoric."
Jackson currently spends fifteen hours a week undertaking intensive training. His program includes strengthening in the gym, javelin, netball, gymnastics sessions, sprint practice and plyometrics.
Plyometrics uses the speed and force of different movements to build muscle power and includes exercises such as running, jumping, and kicking.
His schedule is intense, so does he ever get time to relax and unwind?
"My relaxation is fishing. I prefer beach fishing with my friends. It's quite calming, just staying focused and waiting for the bite. It's a different environment. We all need some down-time – even competitive sports people."
VisAbility offers a range of supports and services so you can lead the life you want. Jackson makes use of Assistive Technology and Occupational Therapy. We also offer Exercise Physiology.  Exercise is proven to reduce the risk of developing chronic illnesses, improve mood and strengthen your body.