Kaleb was diagnosed with Albinism at one month old and lives with Oculocutaneous Albinism which affects his skin and means he also has limited vision.
Kaleb and his family live in Kendenup in the south of the state and has recently excelled in swimming, competing in both multi-class and able-body events.
Aafje, who's originally from the Netherlands, is mum to two other boys – Sebastian, 18, and Dylan, 16. Kaleb is Aafje's youngest child and the only one of her children born with Albinism, a rare genetic condition where the body doesn't produce melanin.
To mark this month's International Albinism Awareness Day (IAAD) 2021 (link opens in new window), we're sharing Aafje's story of Kaleb's early years from birth to school, his swimming success, and his hopes for the future.
When did you first become aware that Kaleb may have Albinism?
I had a normal delivery and was discharged from the local community hospital in Mount Barker the next day. Kaleb had very bright blue eyes and light hair but no one questioned anything until a few days later.
I'd noticed that although his eyes were blue, sometimes they'd look red as well. We had a home visit from a GP who first suspected Albinism. At the time my mother, who's a nurse, was visiting from the Netherlands. It was a blow. You just want your child to be healthy and we weren't sure what lay ahead.
In hindsight, it was a natural reaction, but nearly ten years on I can say with all honesty that Kaleb has been a complete joy and has surprised me with all his achievements, especially his swimming.
The body doesn't produce melanin, causing a lack of pigment in the skin hair, and eyes. Kaleb has Oculocutaneous Albinism where his vision is affected. We encourage him to wear a hat and sunscreen. We traced both sides of the family back three generations and we couldn't find anyone with the condition. Then my ex-husband and I took tests and we discovered that we were both carriers of the OCA1A.
Kaleb had a diagnosis of Attention Deficit Hyperactivity Disorder (ADHD) five years ago. I'm now waiting to see if he has Autism as well. It's hard to diagnose because his behaviour may be a result of his vision loss or ADHD.
After the Albinism diagnosis from the GP, we had to wait four months until we could get an appointment with visiting Ophthalmologist Dr. Geoffrey Lam. He then referred us to VisAbility who work with children with low vision and the Department of Education School of Special Needs: Sensory – Vision Education (SSEN:S.) which provides educational support for people with a vision impairment.
How did you find those early years?
We were introduced to another young lad who had Albinism in Albany. It was beneficial to meet with his parents in the early days and to share stories about our children. We still see each other on an occasional basis.
The early years were tricky because I had a lot going on – namely a divorce and subsequent custody hearing due to domestic violence. During this time I had a lot of support from the community, from friends, and my local church.
I undertook a lot of research and made contact with the Albinism Fellowship of Australia.
My location makes it difficult because all the specialists are in Perth and we live in a rural area – a four-hour drive away. Over the years I've made many trips up and down to Perth, so it has impacted the family.
What support have you received from VisAbility?
A lot! Kaleb was just 17-months-old when he received his first cane. He's had one-on-one instruction from orientation and mobility specialists, occupational therapists, speech pathologists, physiotherapists, and he's met VisAbility orthoptists for low vision assessments.
At the moment we're working with Occupational Therapist, Clare. Last year we managed to have a desktop magnifier funded for him. Now Clare is helping Kaleb to try more assistive technology so we can apply for it via the NDIS for use at home. Clare has also been writing some plan recommendation reports to assist with his NDIS plan. It's been a mammoth task and I am so appreciative of her help.
VisAbility has also paved the way for us to meet other children who have Albinism such as Louis and Hugh and they've been on VisAbility youth camps together. Youth Support Officer Ryan Honschooten, who is blind, is amazing and a great role model.
Kaleb, who turns eleven in July, has an educational assistant to support him at school and uses a desktop monitor so text can be enlarged. He has to be careful when he's in the sun, but I have brought him up just like my other boys.
I encourage him to go outdoors and to be active and now he's making great progress swimming.
Tell us about Kaleb's swimming achievements?
Kaleb joined the local swimming group – the Mount Barker Barracudas four years ago. He loves it and two years ago started to take part in sighted competitions as well as competitions for swimmers with a disability.
Kaleb is the first swimmer in the Great Southern to hold an S code. It means he can compete in multi-class swimming with other youngsters who have a disability – whether that be an intellectual or physical disability. Classes have an S prefix and have a number for functional disability. People with vision impairment are in classes S11, S12, and S13. Caleb has an S13.
In February he swam against a 24-year-old adult with an intellectual disability.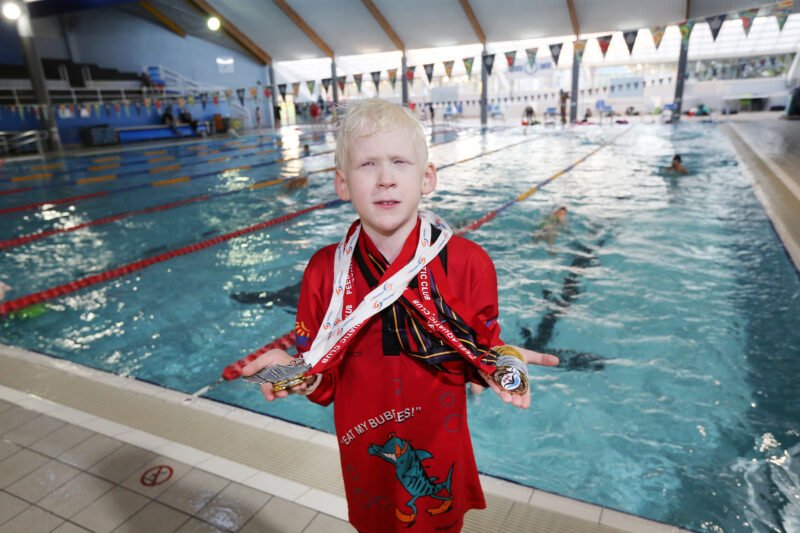 At the Hancock Junior Championships in March, he came home with two silver medals in 50m freestyle and backstroke in the mixed 9-12 years multi-class events. His success led to him being featured in a television report.
I was so proud. He said, "I'm good at something mum. I can do this – watch me win". The swimming turns are the trickiest thing to do if you have limited vision.
What is the white swim cane you've created?
I have altered a white cane for him which has a tennis ball attached to it. It means I gently tap him on the back with this white cane so he can anticipate a turn or the end of a length and slow down. He knows that this tap means he has two more strokes before he finishes or turns.
He eventually wants to compete in the Paralympics but he's a few years away from that. It's a personal goal to spur him on.
Do I have advice to other new parents who have found out their child has Albinism? Yes, I would tell them to take things day-by-day, encourage and support them and let them shine in their unique way.
Early childhood is a period of rapid growth and learning, so it's important to seek help.
How to get support
If you have a young child who has Albinism and limited vision, find out more about the support and therapy we offer through our Early Intervention Services or for school age children with vision impairment.
Please complete the form below to make an initial enquiry about the low vision services and support we can provide. Our Client Experience Team will contact you to discuss your individual needs both now and into the future.