A gifted artist, singer, and model sculptor, VisAbility client Tayla is now channelling her energy into a new career as a YouTuber with low vision.
The 19-year-old was born with congenital glaucoma and band keratopathy and lives in Pemberton. She plans to offer creative tutorials, promote her artwork and upload her videos onto YouTube. 
The online video sharing platform is the perfect way to showcase her array of creative talent.
"I get a lot of artistic ideas from YouTube such as my masks. My low vision has never been a problem because I magnify the screen and listen to what they're saying. There is plenty of arts and crafts information on YouTube videos."

Tayla
Tayla was one of our winners in last year's VisAbility Biennial Awards, recognised for her outstanding artistic achievements and becoming more proficient in using her white cane on a family holiday to Canada.
Manny, our Assistive Technology Assistant, has been teaching Tayla Braille. She has a Perkins Brailler on loan to her. It's a manual Braille writer that is one of the most widely used in Australia.
Tayla's creative talents
Whether it's drawing cartoons or building 3D objects, Tayla is happiest when creative. She comes from an artistic family. Her mother is an amateur photographer, and her dad is talented at drawing cartoons. Both have encouraged her to pursue her love of art.
"Tayla has had her artwork displayed in Pemberton and across the south-west, including the Manjimup Show Art Competition, Cherry Festival, and Sculpture in the Vines." 

Melinda – Tayla's Mum
"She's only 19, and she is getting her name out there. This month she's at a Creative Connections Exhibition in Northcliffe, just south of Pemberton. It's an inclusive exhibition open to people with disabilities. They can submit artwork from any medium. On display will be one of Tayla's models."
Tayla's models aren't just any models – they are mascot heads that are large, distinct in appearance, spectacular in design, and made out of papier-mache, wire, fabric, and other materials.
Sometimes her masks are slightly creepy and gruesome in appearance because she takes inspiration from online horror games. 
"Model making is sensory because you are using your hands a lot, so it doesn't matter that I have a vision impairment. I can work on them over a few days, and that means my support worker can help with tasks such as gluing."
Tayla is well known in the small town of Pemberton and has sold artwork to the local community. One of her drawings is on display at a tapas bar in the town.
Singing and storytelling
But her talents don't just stop at art, mask making, and video production. Tayla is also a competent singer, achieving a Cert II in Music Industry Studies.
"I am not afraid to stand up in front of an audience, so I'm very much a performer. I prefer singing cover versions. My favourite singer is Lady Gaga because she's a little different."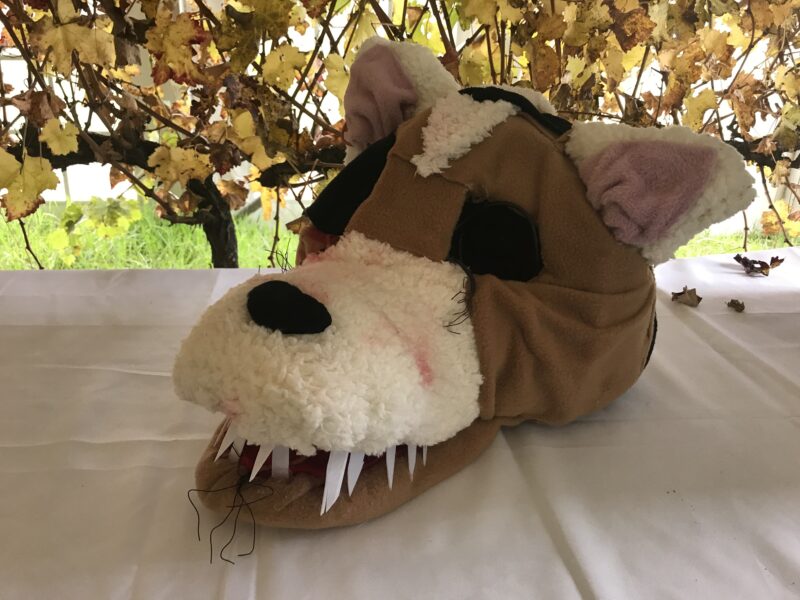 Tayla recently entered Cahoots in Concert, an annual community-based talent contest for young people with disabilities.
She sang at the event. Next March, she will be taking part in a storytelling festival in Margaret River.
For now, she's focusing attention on becoming  an Australian YouTuber with low vision.
"I am working on my first video. It will be around the theme of Halloween because I like things that are dark and mysterious."
It sounds horrible! Best of luck.
We offer a range of support and therapy services for people with no or low vision from birth through to school age and beyond. Discover how we can help you and contact our Client Experience Team for more.