Tucked away in a corner of East Perth you'll find Perth City Farm (link opens in new window). It's a not-for-profit community organisation and our chosen venue to mark International White Cane Day.
Around forty clients, friends and carers gathered at this urban sanctuary for a sustainable sensory tour.
Our Tour Guide was Farm Manager Rod Hughes. He wanted people to touch the plants and the seeds, experience the amazing heat of the compost and hold the farm chickens with their smooth feathers.
"This is a community farm so we're helping to connect lives and encourage people to be kind to the planet," Rod explains.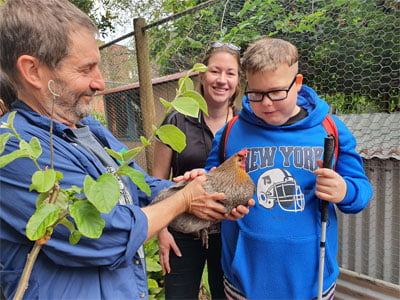 On most tours, Rod passes around leaves and flowers for people to share and smell but on this tour, he decided to make the sensory experience even greater.
"I wanted people to touch society's unwanted waste items, feel the rich soil that Mother Nature makes through the natural mulch of leaf litter.
My aim? To encourage people to get a better understanding of recycling."
An eco-sustainable farm
Rod has spent three decades of his working life in environmental management and has a keen interest in permaculture – the development of agricultural eco systems.
While it was the first type of sensory tour for Perth City Farm, it's a tour he'd like to repeat in the future.
"People were willing to stick their hands into all kinds of materials. They were brave and wanted to get a feel for City Farm and experience the goodness in the bucket of compost."
What was the verdict from our clients. Did they enjoy our sustainable and sensory tour?
"It was great to be able to hold a chicken. Henrietta seemed very comfortable in my arms" – Rishi
"Who knew composting could create so much heat!" – Norma
"I'm not a gardener but I was fascinated with the way bees lay their eggs in the nests they build" – Tim
If you would like to meet like minded people, find out about our Community Activity Centre. Choose from a range of activities from arts and crafts to cooking to gardening.