JAWS is an unforgettable acronym. Most people with low vision will know that it stands for Job Access With Speech. It has nothing to do with a 1970s film!
Two screen readers dominate the market – JAWS and NVDA for Non-Visual Desktop Access. 
Our Assistive Technology Officer, Emmanuel Lee, also known as Manny has just received Certification in JAWS (link opens in new window) to prove his expertise and we're proud to share his achievement. Manny lost his sight due to retinitis pigmentosa, a generative eye disease. 
"A screen reader is software, a piece of assistive technology that enables a person with low or no vision to use a computer. It takes screens from websites and documents and converts them into audio output," he explains.
The Windows screen reader JAWS is the most popular, both in Australia and globally.
With the JAWS screen reader, you can:
Read and navigate pages using a virtual cursor.

Change the voice and the speed of the delivery of the speech.

Use quick keys to navigate efficiently, such as reading a segment of text, main headings, go to links, images or increase or decrease the speed of the voice.
Manny is one of our team who provides support Training and Workshops including Braille Classes to our clients.
Why is the Windows Screen Reader JAWS more popular?
Freedom Scientific (link opens in new window) is the company behind JAWS which has been around for more than thirty years. It maintains constant compatibility with Microsoft Windows and has a higher level of security than other screen readers. It's easy to download, and there are voice prompts for simple installation. It's also available in different voice settings to suit your requirements, but it comes at a price.
"It is by far the most expensive but most trusted – that's what gives the Windows Screen Reader JAWS the edge."

Manny Lee – Assistive Technology Officer
"Government agencies will only let employers use JAWS rather than NVDA because it provides a greater level of security."
How much does JAWS cost?
There are two packages available, for home use and professional use. You pay a price for the software and then there's a service maintenance agreement on top of this.
As of 2022, the cost is approximately $1,500 for home use and $2,300 for professional use. In addition, it carries a standard maintenance fee of $400 and $750 respectively. The standard maintenance fee has to be paid every two years.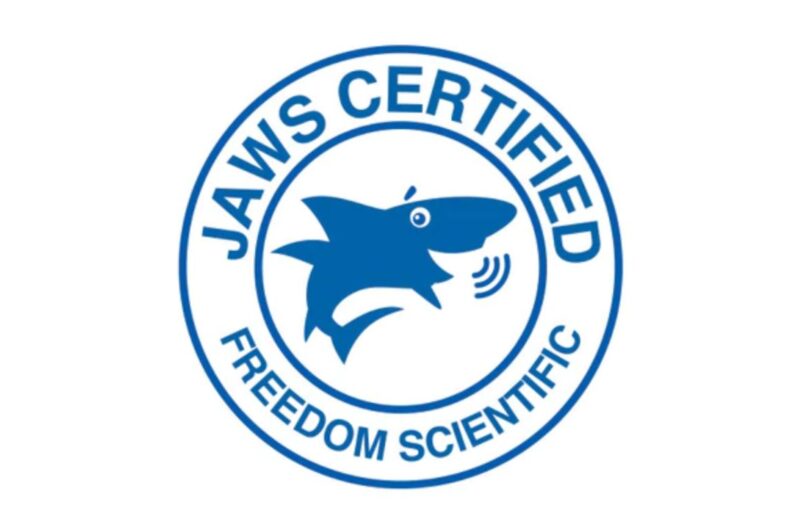 Each license is for three computers, but it's not suitable for mobile phones.
You can obtain JAWS through your National Disability Insurance Scheme Plan (NDIS) or My Aged Care Package.
JAWS and other screen readers are also available through The Employment Assistance Fund (link opens in new window) with Job Access. If you start a role with a company, the Australian Government will reimburse the company for assistive technology suited to your needs. VisAbility's Disability Employment Services Team can help you secure employment and provide recommendations for technology and equipment to make your workplace accessible and inclusive.
How do you use the Windows Screen Reader JAWS?
The Freedom Scientific website can offer you a free trial session. It also gives basic instructions such as starting JAWS, adjusting speech, reading documents, and how to browse the website.
There are keyboard shortcuts to increase your efficiency using the Windows Screen Reader JAWS.
You can receive one-on-one training through VisAbility. However, some companies and government agencies provide training on JAWS contracting the service out to us. Manny is one of our Assistive Technology team members offering this expert training.
What is the benefit of being given JAWS certification?
The JAWS Certification Program exists to validate the skills of trainers or employees so they can increase their product knowledge and become familiar with free training resources.
"It gives me greater confidence as a trainer knowing that I have a deeper understanding of the product."

Manny Lee – Assistive Technology Officer
"Furthermore, my name is on an official international list of accredited JAWS trainers."
Manny says the JAWS certification exam covers areas such as:
Installation and activation of JAWS

Basic troubleshooting scenarios and resources are available with Freedom Scientific.

JAWS features, navigation guidance and using Braille with JAWS

Keyboard knowledge and quick commands

Customising an initial JAWS set-up

Manny's Certificate was issued by the company Freedom Scientific
How can your knowledge help others?
Manny is keen to put his newfound competency of JAWS to good use.
"Through assistive technology sessions, a client will develop the confidence to use it independently. I'll go through the settings, so it speaks with the right spacings tailored to them and find a voice option that suits – robotic, eloquent, real voice, etc."
Would you like to learn how to use the Windows Screen Reader JAWS? 
How to get support
Please complete the form below to make an initial enquiry about screen readers, our low vision services and support we can provide. Our Client Experience Team will contact you to discuss your individual needs both now and into the future.