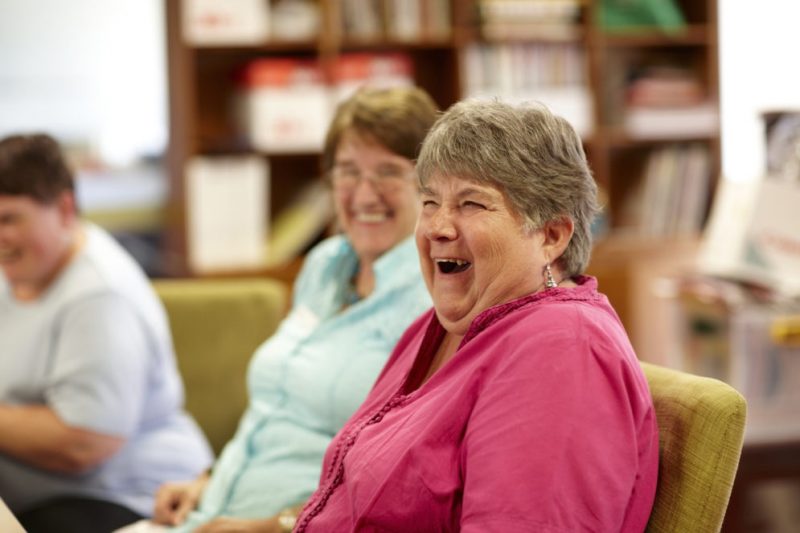 Do you know about the many skills and activity courses we run at VisAbility? As we move into spring, we're introducing a few more which can be accessed with funding from the NDIS (link opens in new window) or through My Aged Care.
These groups and activities are held at our Community Activity Centre at VisAbility in Victoria Park. We're always on the lookout for new participants and you'll receive a warm welcome. It's a great way of meeting people and establishing new friendships. Our courses are a great way of meeting-like minded people as well as learning new skills
Look Good, Feel Confident – Starting Tuesday 19th November 10:00 to 12:00 (three-week course)
It's one of the trickiest things to do if you're blind or have a vision impairment – ensuring your make up looks okay and you're ready to face the world.
Our 'Look Good, Feel Confident' course runs for three weeks on Tuesday 19th, 26th November and December 3rd. The course includes presentations from a qualified beauty therapist and professional stylist.
Rebecca Comber-Short, Occupational Therapist at VisAbility says there's plenty of tips and advice to help you get ready for the day ahead.
"All women want to look their best, and this course offers a number of handy hints about make-up application. There's also advice on your wardrobe attire so you know your clothes mix and match."
"Clients have expressed interest in these topics and because of this feedback we've developed this course and it will be the first time it's run."
Dining Skills Workshop – 12th November 10:30 to 13:30
Anyone who receives an invitation to dinner knows the challenges of eating out in public. We can help to take the stress out of these situations by offering you strategies to cope. The 'Dining Skills Workshop' lasts three hours and includes lunch.
"The beauty of this course is that during the first part we discuss ways to make it easier to dine out. In the second part we eat together and put what we've learned into practise," explains Rebecca.
Living Skills – Starting 17th October 09:30 to 12:30 (six-week course)
This six-week course has been running for many years at VisAbility and previous feedback has been extremely positive. Each week we address day-to-day difficulties which vision impaired people may experience, and then offer solutions on how best to cope. Topics covered include working out medication to identifying different coinage, from managing the time to using practical mobility aids.
"This course is very informative as it lets you know what's out there in way of assistive technology which can make your life easier. It's also a great opportunity to chat with others to share experiences," says Melissa Guy, Occupational Therapy Assistant.
Care for Carers Seminar – Thursday 24th October 09:30 to 12:30
Our 'Care for Carer's Seminar' is just that! It's for anyone who supports a relative or friend who has vision loss. Facilitated by our social workers, this is a one-off, three-hour event, being held at the same time as the 'Living Well' group. It's scheduled so you can attend the seminar while the person you care for is on the 'Living Well' course.
Carers offer emotional support and encouragement as well as looking after an individual's well-being. Carers can help someone to retain independence and enjoy a good quality of life. This introductory workshop is for carers of relatives or friends who experience vision loss to:
Increase knowledge and understanding of eye conditions;
Share information about strategies, services and benefits available to those with vision loss and their carers.
Recognise stresses on carers and develop self-care strategies.
We offer a range of Services at VisAbility which are available through the NDIS. If you'd like more information about the above courses, including anything to do with fees, contact us.