Over the past month, VisAbility has been extending its Accessible Information Services for use in a rather unusual circumstance. Artist and Curator Elizabeth Bills, along with seven other Perth-based artists, have this year been involved in creating an accessible, immersive and tactile art exhibition in PS Art Space, Fremantle. The exhibition titled For The Lonely, explores each artists' personal experiences of loneliness. In a ground-breaking move for Perth, Elizabeth Bills decided to include accessibility into the creation of each artwork, and has been working tirelessly to ensure that the exhibition could be enjoyed by those living with vision impairment or blindness. This is what lead Elizabeth to get in touch with VisAbility. Aware that VisAbility was a leader in its' field, and was well known for its Accessible Information Services, it seemed like the logical place to come to receive help and guidance on creating all things accessible.
When initially approached, Caris Parry VisAbility's AIS Coordinator, thought the request was different but was intrigued and excited to see how the team could help. "Initially when Elizabeth contacted us, it seemed all very new to us and we didn't know how it would all come together. However meeting with Elizabeth, and hearing how interested she was in using accessibility I was excited. Not often do you come across someone who is so ready to consider all access needs and types of disability."
Elizabeth, with the help of Leone Carroll, Braille Production Officer and Caris, was able to create a series of accessible drawings. "We used swell paper, a type of paper that works in a Picture In A Flash embossing machine. Everywhere the machine senses dark bold lines, the paper becomes raised. This creates a tactile texture so that people with vision impairment have the ability to feel what the artist has drawn." Caris explained. In the process, Elizabeth had teamed up with Co-director Kate Shelton, who is otherwise known as VisAbility's Content Creator in the Marketing Department. The two friends, spurred on by Kate's interest in accessibility, were ready to further the extent of access in For The Lonely.
Vithya Vijayakumare, VisAbility's Digital Production Coordinator was excited when she was approached to help create an accessible version of the exhibition catalogue. While exhibition catalogues are normally produced in print, this catalogue was designed to be digital, downloadable and screen-readable. A champion of the ePub3 digital format, Vithya was able to create a highly accessible catalogue that meant those with vision impairment or blindness could access and read the catalogue on the go, no matter if they were at home or in the gallery. Importantly, Braille catalogues and Braille floor-sheets that showed the location of artworks in the gallery, were on offer for those that required them.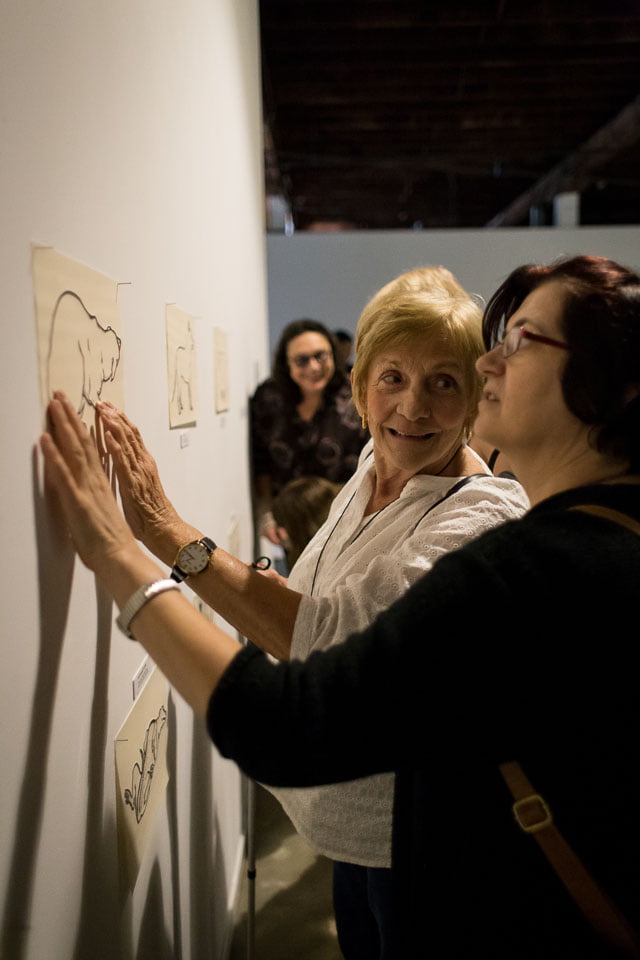 The whole of VisAbility's AIS team pulled off a tremendous effort in supporting and helping Elizabeth and Kate create an accessible exhibition. They attended the exclusive opening afternoon on Saturday 6 May, where they were able to see the hard work come together. An Audio Description and Tactile Tour took place at this event, where a group of vision impaired and blind individuals were able to experience the accessible artwork. Caris remarked how this made her feel, "We don't often get to see or experience the end product. We often just send work off to clients and that's it. It was so different and wonderful seeing it being used in front of us."
Elizabeth Bills and Kate Shelton sung praises of the VisAbility team, and were honoured with the assistance they had received. "I am so grateful to VisAbility for their support of this project and giving the artists' the opportunity to push the boundaries of aesthetic access by experimenting with innovative technologies. VisAbility have been so generous with their time and expertise. The screen readable catalogue, tactile prints, braille catalogues and floor sheets were instrumental in the success of the exhibition. We thank them wholeheartedly." Elizabeth said.
VisAbility is proud of the AIS team and the determination they had to experiment and help local artists in their aims to create an accessible exhibition. Caris remarked,
"This opportunity has given us insight into the depth of our skills. It has definitely showcased what we can do here in AIS. Vithya, Leone and I can build off this and use the innovative techniques for other clients. It's been a big learning curve but it was so worth it."
VisAbility look forward to continuing to help the WA community realise and reach their vision for independence.
For The Lonely is on until Friday 19 May at PS Art Space in Fremantle. Entry is free. Opening hours are 10:00am to 4:00pm Tuesday to Friday.