Have you ever wondered how an organisation operates during COVID-19? We thought you'd like a sneak peek of what VisAbility is doing over this period – and as you can see, we are still very busy.
This 'Day in the Life' snapshot was written by our Executive Manager Kary Macliver and demonstrates our involvement in many different areas and how we're supporting clients every day.
7:00 am
Guide Dog Puppy Raisers (link opens in new window), Sarah and Tony are out walking Onyx, who is a four-month old Black Labrador and a ball of activity. Sarah and Tony have had Onyx since he was eight weeks old. Once they established a reliable toileting routine they have taken Onyx pretty much everywhere with them – into shops, restaurants, and on public transport.
This ensures that Onyx experiences the widest possible range of environments he will encounter as a working dog. Life goes on pretty much as normal at the moment other than the required social distancing. The puppy raising classes they normally attend in Victoria Park are now online through Zoom.
There is a lot more sharing of photographs and stories on the Puppy Raisers Facebook page. Strangely enough they feel like they are getting to know the other puppy raisers and staff better now that they are isolated.
8:15 am
"Come on Fran – I know you've got more in you than that!" says Kane from VisAbility's Exercise Clinic. Fran thinks it's lucky for Kane that this guided exercise session is online or she might thump him!
She knows that she will be glad that she persevered at the end of the session though. As she has grown older, and her sight has deteriorated, she has become far less physical.
Constant news reports about the virus had left her feeling anxious and depressed and these sessions seem to bring on 'happy hormones' that leave her feeling a lot more positive.
9:00 am
The first session of the day for the Community Activity Centre begins.
Enid attends her usual Mosaics sessions on Monday and Wednesdays but now that she no longer has to rely on volunteer transport to the Centre she is thinking of adding in a couple of more sessions. Maybe Italian classes or Music Appreciation?
It helps that the centre has waived their fees for the quarter – she needs to save every dollar she can. Thankfully, the staff had packed up and delivered her a Mosaic 'take home kit' so she has a project to work on.
It really is a lot like being in the centre as she can hear all the familiar voices in the "Zoom Room" though she must admit that she does miss the morning tea they used to serve.
9:15 am
Louise is attending an online therapy session with her daughter Annabelle. Louise was worried that the great progress that Anabelle was making with her speech therapy would suffer.
She was concerned it would slow down or stop altogether now that their Speech Pathologist Monique from VisAbility can no longer visit their home.
She needn't have been concerned however as their sessions have seamlessly transitioned for home visits to online.
Louise says: "Video-conferencing has provided our family with more regular access to therapy, ongoing support, and has guided me in the right direction. It has been so valuable for my son, without it we wouldn't be where we are now".
10:30 am

"Heads, Shoulders, Knees and Toes" is now stuck in her head and likely will be all day.
That is the only drawback that Sharon can see from the
VisAbility Playgroup
for vision impaired children that she and her two children just attended online.
The kids had been going a bit stir crazy so it was great to see them singing along with the friends they have made over the past year to the 'Bee Bee Bumble Bee' song and the aforementioned "Head, Shoulders, Knees and Toes".
In addition to the singing there was story time – 'Harry the Dirty Dog' and 'Health and Handwashing' and a fun making bubbles activity. Sharon got to catch up with her friends too – these ones from VisAbility are extra special because they really understand the challenges that comes with parenting a child with a vision impairment.
11:00 am
Cup of coffee in hand, Tim takes a few moments to check his emails. There is a new one from the CEO of Guide Dogs WA, Elizabeth Barnes, letting him know that they have launched an Emergency Appeal due to Covid-19.
She writes that for the first time in a very long time Guide Dogs WA do not have any income coming in from community engagement events or their iconic coin Collection Dog program, which has been suspended. Tim remembers how many times he has dropped a few coins into the mini dog near the till of his local shop. He's sad this is just one more thing to disappear during the fallout from Covid-19. He clicks on the link provided and makes a donation.
12:00 pm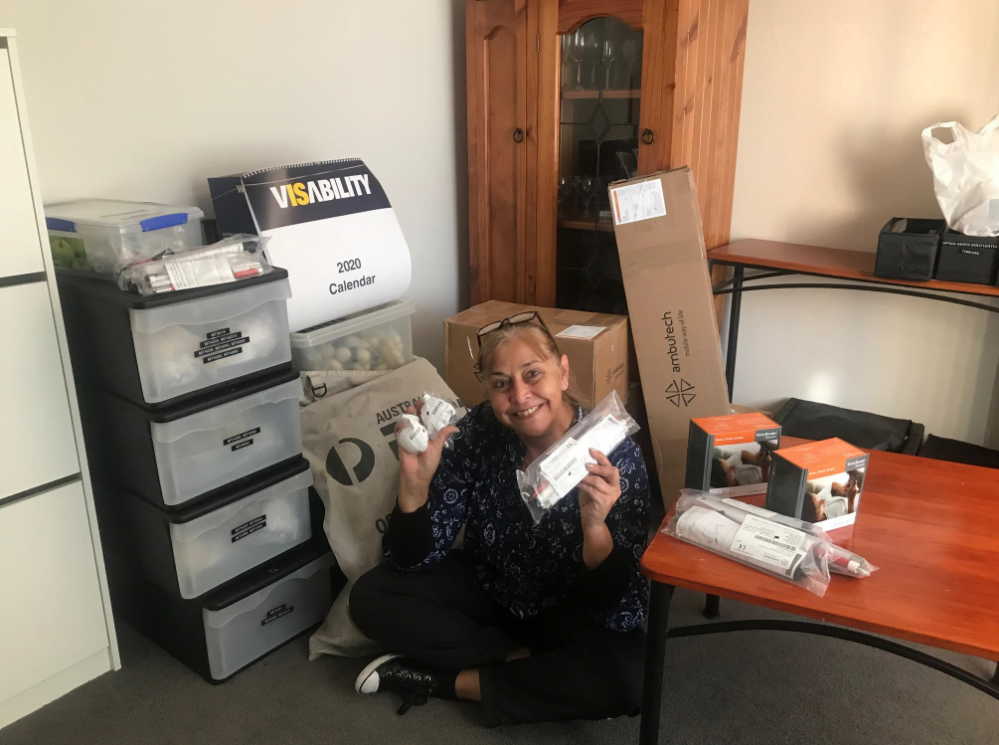 Nick is in a panic. Somehow he has lost the ball from the end of his cane and without it his long cane is less than useless. He calls the main VisAbility number and Val answers promptly. She explains that Ivani from the Resource Centre and Shop has taken a stock of essential items into her home.
Val says she will send through an order for a new cane tip which will arrive via the mail. She reminds him that the safest way to treat any package at the moment is to use gloves when opening and that he should give the cane tip a good wash in soapy water before fitting it.
1:30 pm
Yesterday Hilda finished the last of the 15 talking books she was sent from VisAbility and she is not happy. She tried to listen to the radio but it is nothing but bad news these days and she longs to escape into the world of one of her historical romances.  
Hilda calls to complain about how she's no longer receiving any books. She speaks to Library Co-ordinator Caris. Caris gently explains that the cartridges are not being sent at the moment as the risk of contamination is too high.
The service will resume as soon as the WA Health Department (link opens in new window) advises it is safe to do so.
Caris tells Hilda about VisAbility's online downloadable book service and asks if she has access to a computer or similar. Hilda says she has an iPad that her daughter gave her for Christmas but she hasn't taken it out of the box as she doesn't have any use for it. 
Caris offers to connect Hilda to VisAbility's Assistive Technology team to give her some lessons on how to use the device and down load her books. At her session the next day the occupational therapist not only guides her to successfully download her books – he also shows her a nifty magnifying app that makes it much easier for her to read her letters and cards.
2:30 pm
Ken is feeling a bit lost and really missing the dog that he and his wife Janet have been Formal Boarders for over the past 3 months.
They had established a great routine and Ken enjoyed the short chats with the team when he dropped Milo off in the morning and picked him up at the end of the day.
It reminded him of school runs when his children were still little. He understands however why Guide Dogs Tasmania (link opens in new window) has made the hard decision to suspend this program due to the risk of contamination for both staff and volunteers at the twice daily contact.
He was pleased to learn that the Guide Dog mobility instructors and dog trainers have taken all the dogs in training into their homes to live with them. It means their training can continue and he's receiving updates on how Milo is doing.
3:00 pm
Delighted laughter can be heard from the room next door to where Kate is making herself a much needed cup of tea. Her daughter Della, who is six years-old is watching Books and Blocks with Bazza online and laughing at Bazza's antics!

Della loves dogs and Kate has begun to think that maybe Bazza and Brianna might be just the lure she needs to get Della more engaged with her occupational therapy sessions she normally has to drag her to.
This service is offered under Kites Children's Therapy (link opens in new window) which is a trusted partner of VisAbility.
Kate makes a note to speak to someone at Kites ToyBox about it when she can get back to the toy library to swap Della's toys.
4:30 pm
The phone rings in the Clarence household. 83-year-old James answers the phone and hears the cheerful voice of Jacqui – the switchboard operator from VisAbility. Jacqui says that she is just conducting a wellbeing check make sure that James and family are all OK at this difficult time and if there is any way we can help. James thanks Jacqui for the offer and says that fortunately for him his daughter is providing him with support with shopping, meal prep and other needs.
Jacqui assures him that we are still available to help if needed. He and Jacqui chat for a little while – he can't believe he has phoned VisAbility and spoken to her so many times without realising she is legally blind. Jacqui has a Guide Dog called Della. It feels good to talk to someone who has lived experience of what it is like to lose your vision.
If you'd like to find out more about how we can help you. Take a look at the wide range of services we offer to seniors, adults, school-age children and early childhood.