Australia's only Braille writing competition is celebrating a milestone. This year marks a hundred years since the Dickinson Memorial Literary competition began. It's a platform for authors and writers who are blind or have low vision to showcase their talents and be awarded cash prizes.
Entries are now open and close on 30 August. Submissions should be in hard-copy Braille, Simbraille or a Duxbury-readable file. Previous winners have gone on to greater things. For example Penny Harland, an Australian who is DeafBlind, went on to write 'Penny for your Thoughts', an autobiographical book where Penny shares her life story talks about her childhood and completing three university degrees.
Past winners include young VisAbility client Chloe who won the Junior Creative category two years ago. Chloe developed Stevens Johnson Syndrome, a rare auto-immune system disorder, when she was just four-years-old. It has left her vision impaired. Now aged ten, Chloe is a keen reader.
The annual Braille writing competition is organised by Braille House which has an extensive collection of Braille books within its library. The most popular book is 'The Anthology of Winners and Runners up' containing all the winning entries from the competition.
We decided to find out more about Chloe's Braille winning entry 'Pegasus Saves the Day' and learn more about her favourite books. We also quizzed her mum Susie.
Tell us about your winning entry in the Braille writing competition Chloe?
My story was called Pegasus Saves the Day. It was about a refugee girl who lived in a detention centre and who was bored. At the end of the story, a Pegasus flew in and carried her away to a happy land. When I was four I used to visit a detention centre with my mum and sister. There were two little girls there who weren't allowed to leave and that gave me the idea for my story.
How did you feel when you won?
I felt happy. I knew I had a good brain and could think of things to write about because I had come first out of all the entries.
Do you enjoy creative writing on your Brailler?
I learn print. I find Braille hard. English is my third favourite subject. I like religion and art more, but I do love books and have listened to hundreds of audio books. My favourite books are Enid Blyton ones. At the moment on my
audio book
player I am listening to the Naughtiest Girl in School. I also read Wonder in class by children's author R.J Palacio.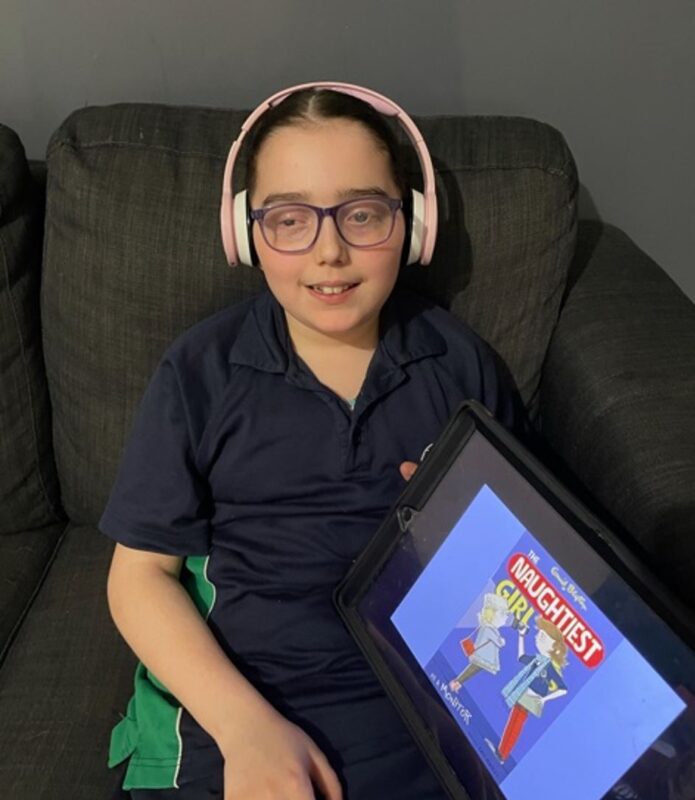 Would you encourage people to enter the Braille writing competition?
Yes, because it's ok if you don't win, at least you have tried and that's important.
Susie, you are Chloe's mum. Why did you want Chloe to enter the competition?
I encouraged Chloe to enter in both 2019 and 2020. Chloe has a hard time learning Braille because she is a dual-mode learner. It means she uses both print and Braille to read and write. She is the only child in her school learning Braille and I wanted her to embrace it and understand how Braille will benefit her throughout her life.
Does Chloe write much on her Brailler?
Not much, that's why the Braille competition is fantastic because it motivates her to use her Brailler. Chloe has lots of fantastic ideas for stories because she listens to so many audio books. Audio books have been her comfort when she has not been feeling well and undergone numerous eye surgeries. I do believe they have helped her to develop an incredible imagination.
You must be a very proud mum?
Yes. Chloe puts in a lot of effort to enter this competition. Braille can be difficult for her, yet she pushes through and is able to produce beautiful, lighthearted stories. It also takes a lot of concentration, effort and time. I couldn't be prouder.
Want to enter the competition? Submissions to the Dickinson Memorial Writing Competition (link opens in new window) are open until 30 August. Need inspiration? Read Chloe's winning entry 'Pegasus Saves the Day' (link opens in new window) or read it below.
Our Audio Library has a vast collection of books and is one of the Southern Hemisphere's largest talking book libraries for people living with blindness, vision impairment or a print disability. For more information email library@visability.com.au.
Pegasus Saves the Day
A story of Freedom by Chloe Sirolli
Hi, my name is Yasmin. I am nine years old. My beloved mum, adored sister little Ziba and I travelled on a long, frightening boat trip to this horrible detention centre for nothing!
We sit between walls and are constantly being watched by guards. I sit outside wishing I was somewhere else than here. I watch my sister's brown curls bob up and down as she runs to the sandpit. It is the only piece of play equipment we have.
I go inside and see my mum sitting on her bed trying not to look sad. I look into my mum's sad, brown eyes and she says "I know one day we will be free."
"You are right" I whisper into her ear.
Suddenly I hear my little sister calling me. "Come Yasmin!" I run into the backyard and see why Ziba is so happy.
"Horsey? With wings?" says Ziba.
"No!" I laugh. "A pegasus!" I go to get my mum but she does not believe me. My mum comes outside and yells, "Its really a pegasus! Hop on!"
So we all get on its back. It's body is as white as snow and it's horn is as clear as crystal. The pegasus took off. My mum says "where are we going pony?"
"Its not a pony! It's a pegasus! And its taking us to a magical land" mumbles Ziba angrily.
In just a second we are in a place with happy kids playing, mums talking and heaps of other pegasusses flying around and gnawing on grass.
We get off our pegasus and go to talk to the kids and parents. The other kids ask me my name and they say their names are Abdul, Nalie, Sam and Eba.
"Would you like to go to school with us?" they all ask. I am astonished. I am too excited to speak because I have never been to school before.
I look over at Ziba and she is playing on the monkey bars and mum is making plenty of friends. I am happy too. I make a wish that I can live here forever. I feel so free.