To run a marathon involves dedication, commitment and energy. Neil Henderson, father of Patrick who is receiving therapy from VisAbility, has set himself a challenge. He's going one step further, well quite a few steps really, to run an ultra-marathon. Known as the Yaberoo Trail Ultra it is 8km longer than a normal marathon.
He's raising funds for VisAbility to thank us for the ongoing early intervention support we've provided for his two-year-old.
"We've had a challenging few years and running helps give me clarity. VisAbility has been amazing, helping to lighten the load," he explains.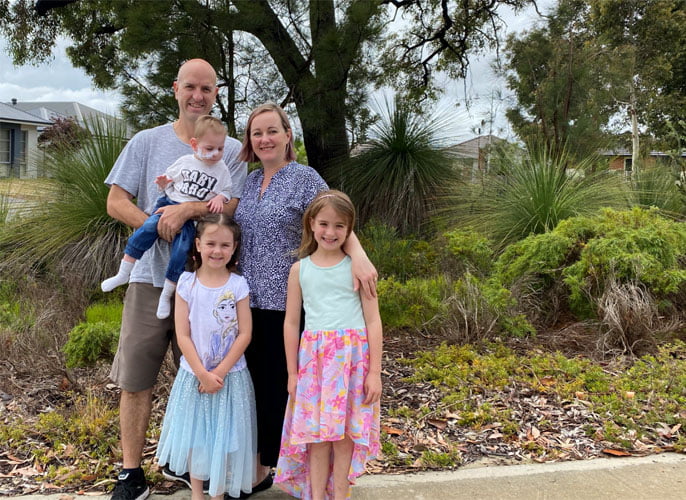 "On a more personal level, there are huge health benefits challenging myself to run this ultra-marathon. I've improved my cardio, and I'm 15 kg lighter since taking up running last year,'' Neil adds.
Ultra-marathon trail
Neil will be running a distance of 50km on a limestone path through the Neerabup National Park. This ultra-marathon takes in some beautiful views from high elevations.
Last year he completed the City to Surf, running 12km for Helping Hands, a charity that supports the families of babies receiving support in neonatal intensive care. Patrick spent nearly four months in the neonatal intensive care at Kind Edward's Hospital after he was born.
Neil has set up a home gym at the back of his house which includes a weights bench, so he can easily train whatever the weather. So, why did he decide to start marathon running in his forties?
"I was a runner in my teens in England, and my dog would come with me. But then I didn't run for twenty years. I suppose I needed a reason why and I'm doing this run for Patrick and for those organisations which have really helped.''
Caring for Patrick
Patrick is the Henderson's third child. He has two older sisters – Bethany and Evelyn. Born prematurely at just 28 weeks and weighing only 750 grams, problems with Patrick's retina and vision were diagnosed soon after his birth. He has complex needs, but a full diagnosis of his condition hasn't been established.
Now at two, his condition remains undiagnosed. He has some tunnel vision and is fed with a Nasogastric (NG) tube that goes into the stomach through the nose, causing frequent vomiting.
He hopes to have surgery soon, so that he can be fed directly into his stomach, but his family are hopeful that one day he will be able to eat properly.
Speech Pathologist Helena Challis has been visiting Patrick at home to help with his feeding.
"It can take forty minutes to feed him, and he has to be fed five or six times a day, so it impacts on family life,'' explains Patrick's mum, Diana.
Patrick has frequent reflux, vomiting which occurs after feeds, which is negatively impacting his weight. Speech Pathologist Helena Challis offers support through Play Picnic mealtime therapy sessions. This gives the toddler the opportunity to see, smell and touch food, experiencing and playing with food in advance of his tube feeding.
He's also receiving occupational therapy and physiotherapy from the VisAbility team.
Diana takes Patrick to the VisAbility playgroup where she's met other mums who are going through similar challenges with their children.
"He's not mobile yet, he has his own signature move which we call doughnuts. He lays on his back as a turtle and spins around and is able to manoeuvre that way."
Showing appreciation
The Henderson family say that the VisAbility therapists have offered support during some bleak times.
"When you have appointments in hospital, you're dealing with a lot of negativity, so it can get you down. Whereas with his therapy, you're noticing improvements, so it is more upbeat and positive. It's great to witness his milestones.''
Once this ultra-marathon is done, will there be any more for Neil?
"I hope so, it's pretty cathartic. There are ultra-marathons which are 75km long, so next year maybe I'll aim for that.''
Anyone keen to sponsor Patrick can go to his Ultra-marathon fundraising page. Money raised will go back into VisAbility, and services for the blind and vision impaired.
Find out more about our Early Intervention Services and how we can help you.