On Wednesday 18 January, VisAbility and the Town of Victoria Park celebrated the handover of the new accessible copies of their Disability Access and Inclusion Plan (DAIP) 2017-2022. The handover provided the time to reflect on the newly adopted DAIP and the positive impact it will have on future community equity and access. VisAbility team members were joined by Town of Victoria Park members, and special guests Town of Victoria Park Mayor Trevor Vaughan and former Deputy Mayor Keith Hayes.
The DAIP was developed in consultation with key stakeholders and community members, and it was recommended that the final DAIP was produced in accessible formats. Our Accessible Information Services team was then called in to translate the document in Braille and audio formats, which will both be kept at the Victoria Park Library and VisAbility for community to access.
"It's really important for the Town to lead in this space, which is something we have done in the past thanks to a really diverse and proactive Council." said Mayor Trevor Vaughan.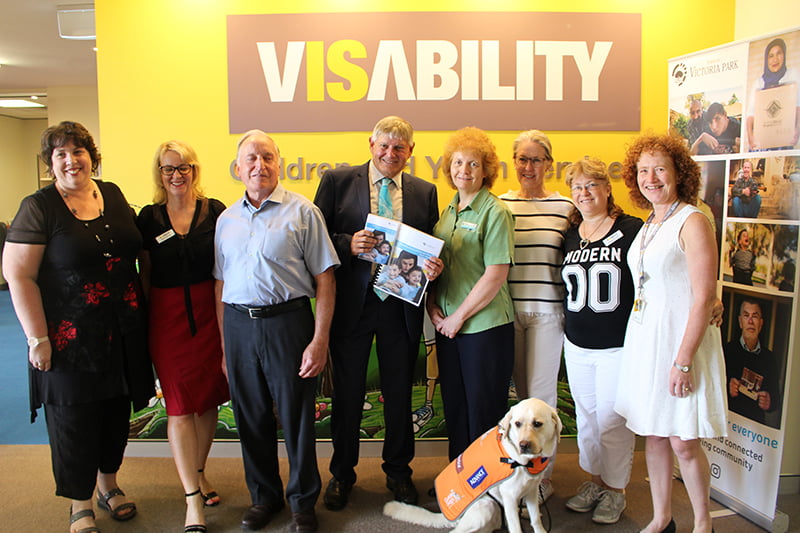 The Town of Victoria Park's DAIP was adopted by the Council in September 2017, and there are many examples of the outcomes already including a development of event management documents which assist team members to deliver inclusive and accessible events.
The upcoming Twilight Trio concert series will feature an Auslan interpreter and a planned business breakfast to be held in April will invite local business to learn about how they can provide accessible and inclusive environments.
The DAIP 2017-2022 is also available to view on the Town of Victoria Park's website (link opens in new window). You can view the photos from the handover event here.